The BR Modernisation plan of 1955 saw the need for larger tank wagons. Charles Roberts developed the first of these - a 35 ton glw (Gross Laden Weight) fuel tanker for ESSO.
OR76TKB001 ESSO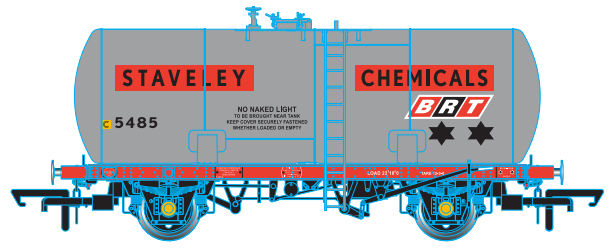 OR76TKA001 Staveley Chemicals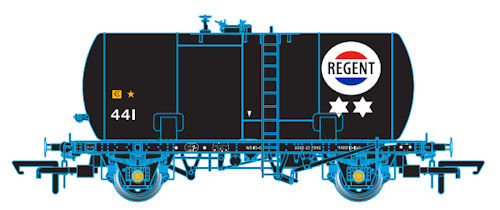 OR76TKB003 - Regent
Produced in two variants - Class A for lighter fuels and usually painted in a silver based livery, and the less flammable Class B fuels - which came with a heater unit to assist in unloading. The Class B livery was typically based on a black painted body as shown in our picture.
We will correctly produce both variants with the different length tank bodies and the original and upgraded suspension systems.
These wagons were incredibly long lived and were in regular use through into the 1990's.
| | |
| --- | --- |
| Product Number | Product Description |
| OR76TKA001 | Class A Tank BRT - Staveley Chemicals Class A |
| OR76TKA002 | Class A ESSO 4311 Revised Suspension |
| OR76TKA003 | Class A Tank ESSO 4022 Class A Original Suspension |
| OR76TKB001 | Class B Tank Esso Black Original Suspension 3300 Class B |
| OR76TKB002 | Class B Tank Esso unbranded Black Revised Suspension 47792 |
| OR76TKB003 | Class B Tank Regent Class B Revised Suspension 441 |