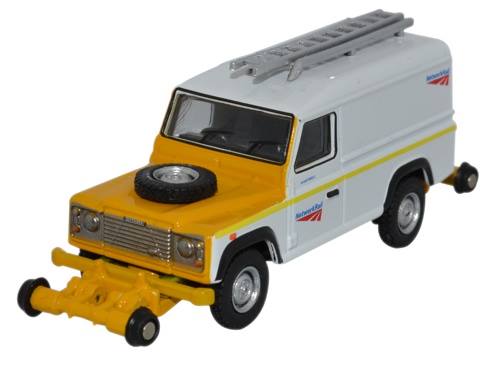 OR76ROR002 Network Rail Land Rover
OR76ROR003 British Rail
The Land Rover is a tough, rugged base platform for rail based operation. With the installation of a series of rail based wheels, which pivot using hydraulics the Land Rover can tackle most track layouts too.
Based on a system in use on the rail network today, our model also features separate, pivoting rail wheels. The model can be posed on or off the tracks. Each model comes with a set of 4 section track ramps - allowing the rail to be accessed at any point.
Developed in conjunction with Aquarius Rail, who we thank for sharing the technical information. www.aquariusrail.com
Each item is a static diecast model with pivoting rail wheels.
| | |
| --- | --- |
| Product Code | Product Description |
| OR76ROR001 | Railtrack Road Rail Defender 90 |
| OR76ROR002B | Network Rail Road Rail Defender 90 |
| OR76ROR003 | British Rail Road Rail Defender 90 |
| OR76ROR003B | British Rail Road Rail Defender 90 |
| OR76ROR004 | Aquarius Rail Technology Road Rail Defender 90 |